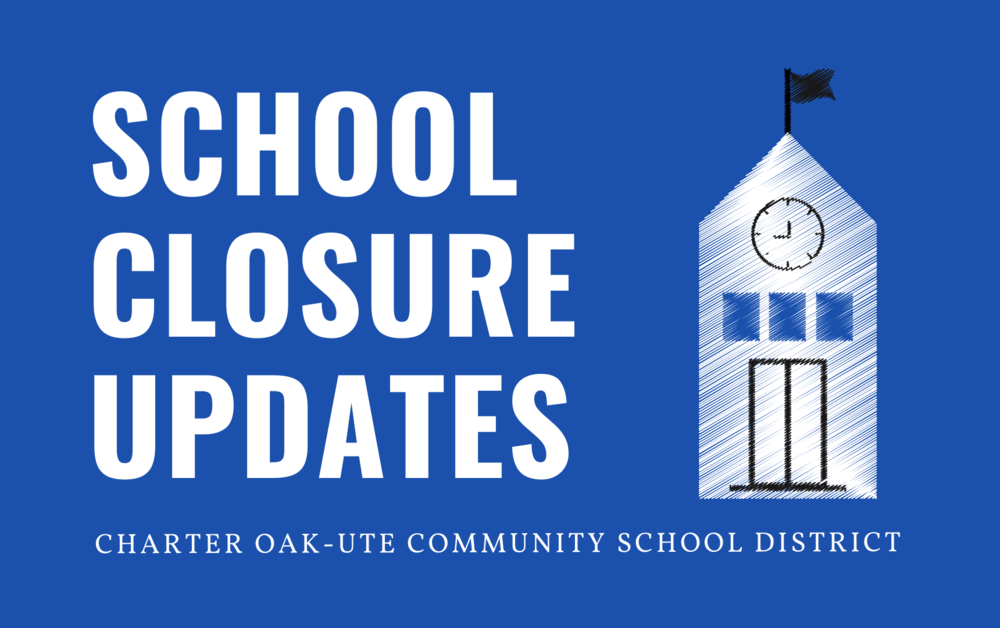 March 23, 2020 - Bagged Meals Offered
Adam Eggeling
Saturday, March 21, 2020
March 21, 2020
Dear Parents/Guardians and Constituents,
During this unprecedented time, Charter Oak-Ute is able to provide meals to all kids ages 0-18. With this being said, we are not providing cooked meals. Instead, we are going to provide bags of food that will make up a day or two worth of breakfasts and lunches. Most items are non-perishables or items that can keep over a few days. It is recommended that once you receive your bag of food to place it in the fridge to preserve any milk, dairy, or sandwich type items.
This is a free service and anyone wishing to take part may do so for your children. A couple of points to remember are:
This is only for kids ages 0-18
Supplies could be limited and times could alter
This is a free service with potentially limited supply, so remember the people that really need this to get by in this unprecedented time of need.
Over the next 3 weeks, or until April 10th for now, we will be distributing food at 3 locations. They are as follows:
- Charter Oak-Ute south cafeteria doors Charter Oak, IA 3:00-3:45
- Old Elementary School Ute, IA 3:00-3:45
- Soldier City Hall Soldier, IA 3:00-3:45
Days of operation will be Monday, Wednesday, and Friday and will start on MARCH 23, 2020. If there is a change to this we will notify you. We have preliminary numbers from the survey that we requested you take. If a site runs out on any given day, we will not be able to provide a bag past the supplied amount. This program will be provided on a first come first serve basis.
Also, during this time remember to practice social distancing and do not gather in groups larger than 10 around the vans or cafeteria door. Provide space for the volunteers helping to get you food and be respectful of their space as well.
If you have any questions about this program, please contact Mr. Eggeling at 712-269-8178 or by email at aeggeling@co-u.net. Thank you all for your understanding. We wish you well and we are here to help you to the best extent that we can.
Respectfully,
Adam Eggeling
Superintendent/PK-8 Principal
Charter Oak-Ute CSD