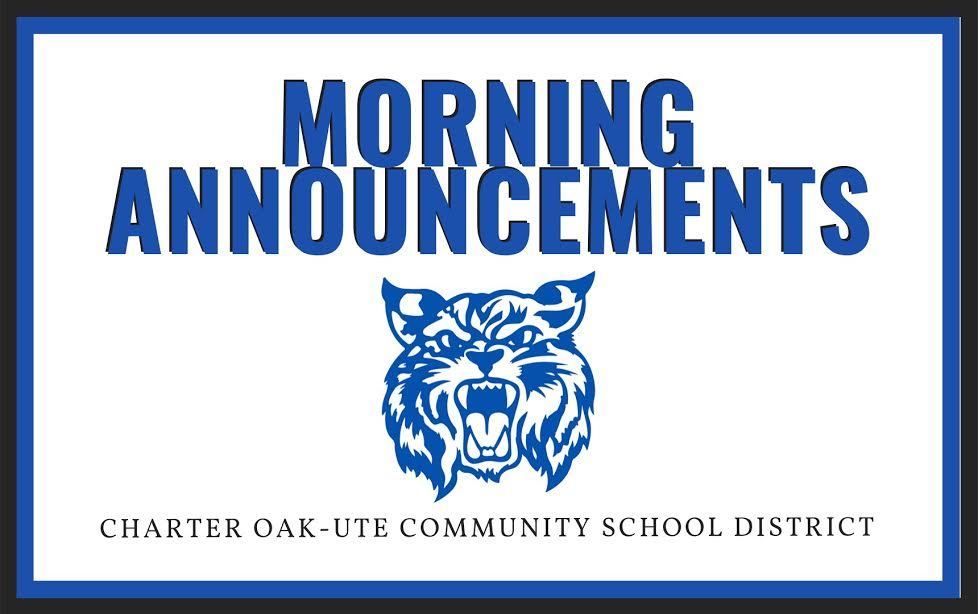 Morning Announcements
Brenda Christiansen
Tuesday, April 28, 2020
Morning Announcements: Tuesday, April 28, 2020
Good Morning Bobcats!!!
Today is National Great Poetry Reading Day! If you shared a story yesterday, share a poem today! Here's a fantastic website to check out and they will even read them to you, if you'd like! If you want a good laugh today check out: https://www.poetry4kids.com/
Here's a little sample of some poems you may find:
We're Running out of Toilet Paper
We're running out of toilet paper. Paper towels too. We haven't got much Kleenex left. I'm not sure what we'll do.
We tried to buy some yesterday. We went to every shop, but all the shelves were barren from the bottom to the top.
We called our friends to see if they had extra we could borrow, but they said they have just enough to last until tomorrow.
Our roll is almost empty now. A solitary square is hanging on the holder and it's way too small to share.
I hope we find some paper soon or other kinds of wipers. If not, I'm told I'll have to use my baby brother's diapers.
How about writing one of you own? If you'd like to share your poem email it to Mrs. Christiansen and your poem may get shared for everyone to enjoy!
Today is also National Superhero Day which honors superheroes, both real and fictional. Batman, Superman, Captain America, Wonder Woman, Iron Man, Hulk, and Spiderman are just some of the superheroes whose names we recognize. Even though they are fictional, these superheroes are great role models for our children. They serve and protect while fighting evil. Dress up like your favorite Superhero today and maybe read a poem!
Joke of the Day: Q: Why can't you give Elsa a balloon? A: She will Let It Go.
The COU Student Council would like to hear some good jokes! If you have a good joke you'd like to share submit them to Mrs. Christiansen's email address: bchristiansen@co-u.net and we will share them with everyone in our morning announcements and you'll get the credit!
KINDNESS ROCKS!!! The Student Council has started a project called "Kindness ROCKS". We'd love you to join in on the FUN! Find some smooth rocks and paint them with bright colors. Add a message of encouragement and then go "hide" your rocks around Charter Oak, Ute, or Soldier. When someone finds your rock we ask that they share it with everyone on Facebook and then go and re-hide it or keep it and "hide" another rock that they've made! Please join in on the fun and see how many rocks you find, as well! If you'd like to see some rocks that the Student Council students have made check out their Facebook page: Charter Oak-Ute Student Council!
Look what was found yesterday!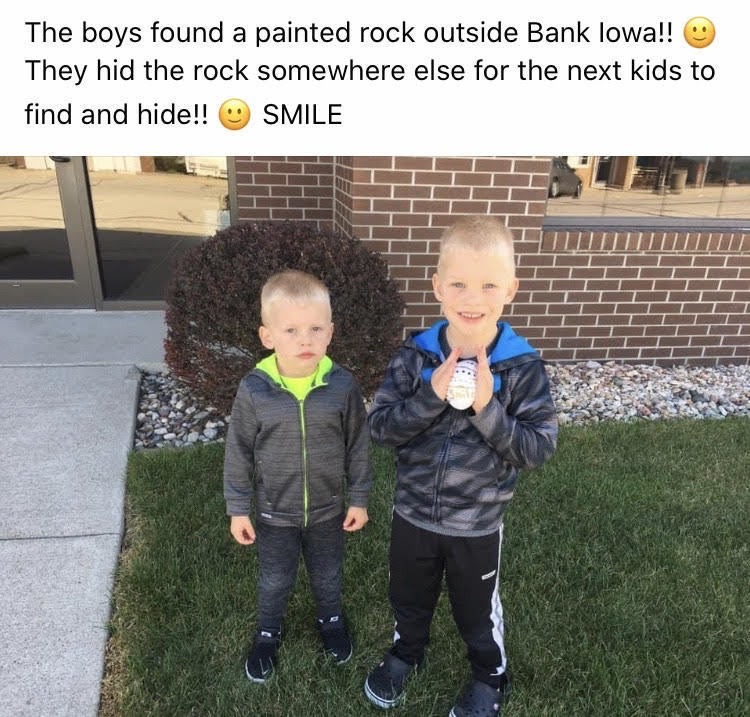 That's all for today. Remember stay safe and stay healthy! Look for our morning announcements everyday until the end of the school year!