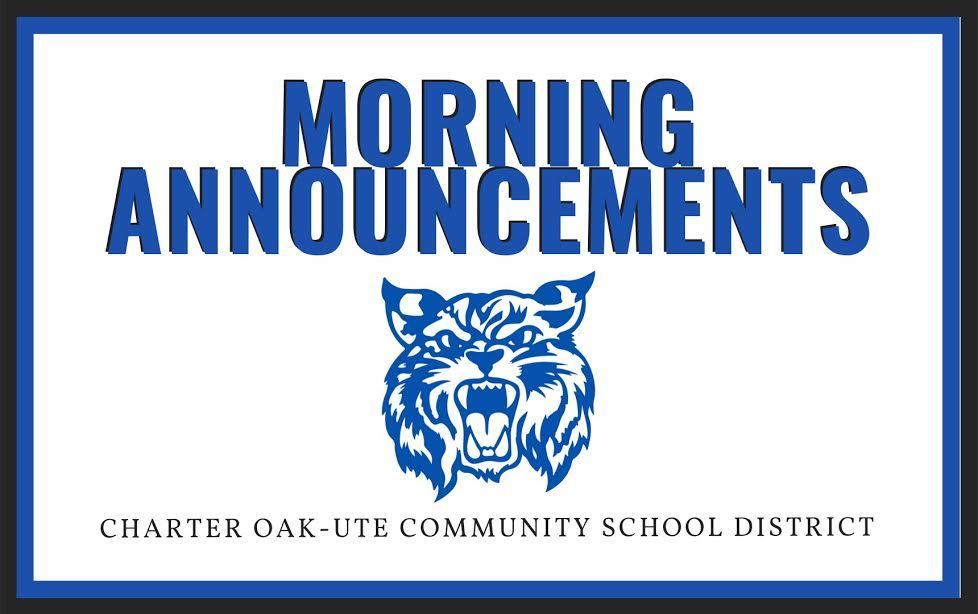 Wednesday's Announcements
Brenda Christiansen
Wednesday, May 06, 2020
Morning Announcements: Wednesday, May 6th, 2020
Good Morning Bobcats!!!
Today is National Nurses Day! On this day, we raise awareness of all nurse contributions and commitments and acknowledge the vital role nurses play in society. We are especially thankful for all of our nurses during this pandemic. Why don't you take some time today to send a card or make it a point to thank a nurse today!
How many of you have tried to make it through a day without your phones, TV's, computers or games? Remember this first week in May is known as Screen Free Week. This week encourages everyone to unplug your devices and get out and enjoy life screen-free!
This week is also known as National Pet Week. If you'd like everyone to see how special your pet is just send your photos to Mrs. Christiansen's email at bchristiansen@co-u.net and she'll upload them to the school website for everyone to see!
Interesting Facts of the Day: Did you know that there were actually 3 dogs that survived the Titanic sinking?
Joke of the Day:
Q: How does a dog stop a video? A: He presses the "paws" button.
Congratulations once again to the COU Student Council and their winning entry for the KTIV's Making a Difference Contest. They have won a trip to Arnold's Park this summer for the entire Junior High School at COU! It's always a GREAT DAY to be a BOBCAT!!!
The COU Student Council has prizes to give away! Submit your answers to Mrs. Christiansen's email address: bchristiansen@co-u.net to see if you're a winner. Here's today's trivia question:
Q: How many years has Mr. Eggeling been at COU?
That's all for today. Remember stay safe and stay healthy! Look for our morning announcements everyday until the end of the school year!