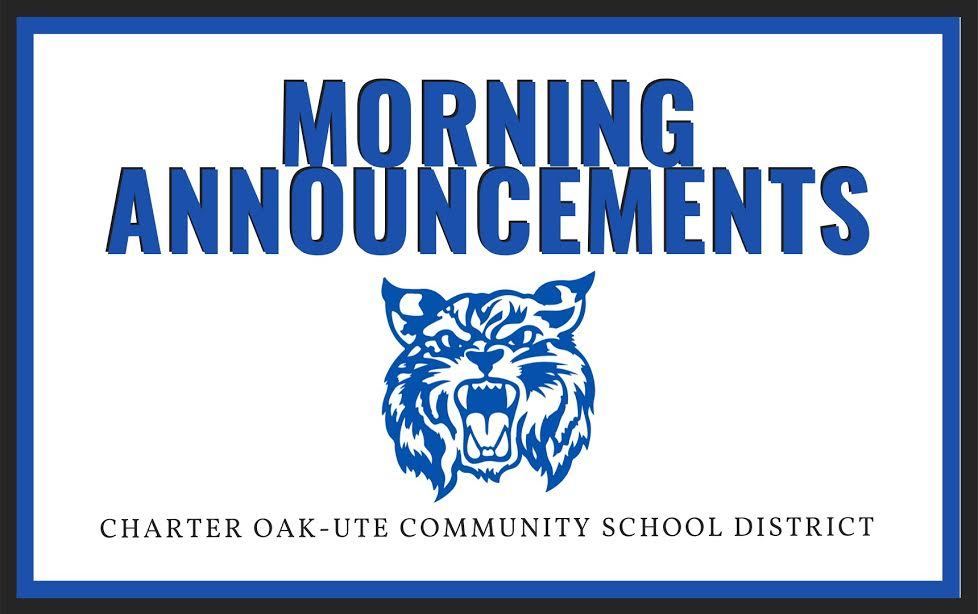 Thursday's Announcements, May 7th
Brenda Christiansen
Thursday, May 07, 2020
Morning Announcements: Thursday, May 7th, 2020
Good Morning Bobcats!!!
Today is known as the National Day of Prayer. It is observed annually on the first Thursday of May. People of many different faiths join in prayer on this day. Let us truly remember to give thanks for the things we have and pray for those who may be facing hard times during this pandemic.
Has anyone made it a day yet without their phones, computers, or TV's? Remember it's Screen Free Week. Give it a try for just ONE day. I dare you!
This week is also known as National Pet Week. If you'd like everyone to see how special your pet is just send your photos to Mrs. Christiansen's email at bchristiansen@co-u.net and she'll upload them to the school website for everyone to see!
· Interesting Fact of the Day: Did you know that a standard pencil has enough graphite to write roughly 45,000 words or draw a line 35 miles long? WOW!
Joke of the Day:
One day the teacher said to her student, "Didn't I tell you to stand at the end of the line?" The student replied, "I tried but there was someone already there!"
No one answered our trivia question yesterday so we'll try it again today.
Q: How many years has Mr. Eggeling been at COU?
Here are some choices: A. 15 years B. 17 years C. 20 years or
D. 22 years
The COU Student Council has prizes to give away! Submit your answers to Mrs. Christiansen's email address at: bchristiansen@co-u.net and winners will be presented with some cool prizes!
Are you a 5th, 6th, or 7th grader this year and would you like to be a part of this FUN Student Council group? Check out your last packet on how to apply to be a member of the COU Student Council. You'll be glad you did!
That's all for today. Remember stay safe and stay healthy! Look for our morning announcements everyday until the end of the school year!