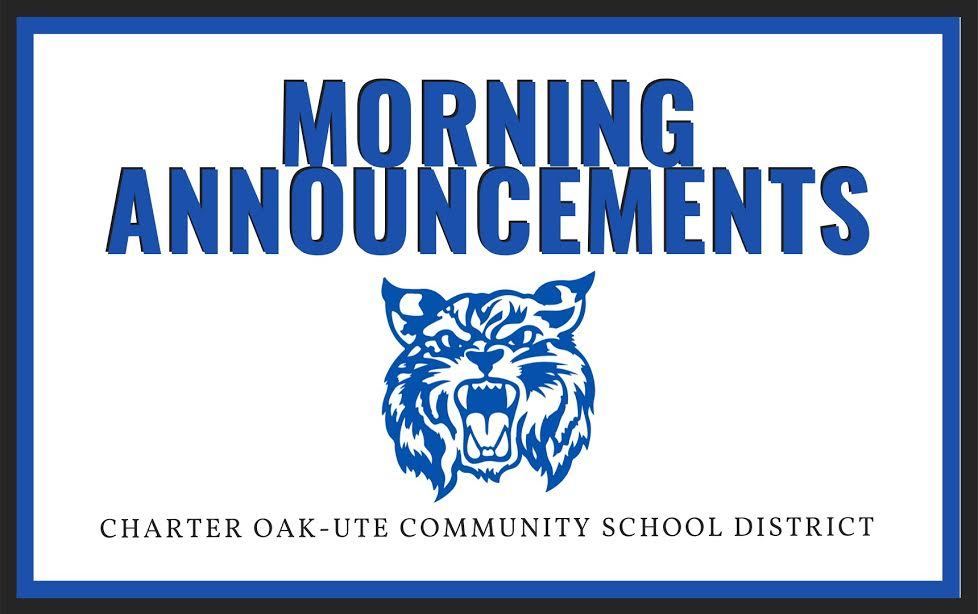 Monday's Announcements
Brenda Christiansen
Monday, May 11, 2020
Morning Announcements: Monday, May 11th, 2020
Good Morning Bobcats!!!
Today is known as National Eat What You Want Day! Observed annually on May 11th, National Eat What You Want Day sets diets aside for a day of indulgence. It's about having one day a year of eating with no regrets. Whether you love donuts or fast food, today is your day to satisfy yourself without feeling guilty. So go ahead, eat that chili cheese dog, greasy hamburger, French fries, potato chips, cake, cookies, candy, and ice cream. You can enjoy them today without remorse!
Interesting Fact of the Day: Did you know that Americans eat 13 billion hamburgers each year, which is enough to circle the Earth more than 32 times!!! Now THAT'S a LOT of hamburgers!
Joke of the Day:
Bert and Ernie are sitting outside one day on Sesame Street. Bert turns to Ernie and asks, "Hey Ernie, wanna go get some ice cream?" Ernie replies, "Sure Bert."
Ha ha ha….get it? Sherbet, as in sherbet ice cream!
Happy Birthday wishes go out to Kyia Lingle, 4th grader, who celebrated her birthday on Thursday, May 7th and to Naomi Heyne, 2nd grader, who celebrated her birthday on Friday, May 8th ! We hope you both had a great day!
Congratulations to 1st grader, Cole Dorale! Cole was the lucky winner in our trivia contest. He knew that Mr. Eggeling had been at COU for 17 years! Cole won a 6 pack of Reese's peanut butter cup candy bars and pop! Way to go, Cole!
The COU Student Council has more prizes to give away! See if you can answer today's Trivia Question.
How many teachers teach classes on the first floor of the COU School Building?
Submit your answer to Mrs. Christiansen's email address at: bchristiansen@co-u.net and winners will be presented with some cool prizes!
Are you a 5th, 6th, or 7th grader this year and would like to be a part of this FUN Student Council group? If so, fill out the forms that were in your last packet to become a member of the COU Student Council for next year! They need to be returned by May 28th. We'd love to have you!
Congratulations to our 8th grade students! IF you haven't driven past the school lately, they are featured on the front lawn of the school. All 18 8th graders will be moving on and becoming Freshmen next year. We'd like to wish them well and want them to know they will be missed!
The 2019-2020 Yearbooks have arrived! IF you ordered a yearbook throughout the year, they are in! There is a limited supply left to purchase. If you missed out throughout the year and would still like a copy reserved for you, please contact Mrs. Christiansen at bchristiansen@co-u.net . These will be on a first contact basis until they are gone. The cost is $25. Thank you!
That's all for today. Remember stay safe and stay healthy! Look for our morning announcements everyday until the end of the school year!