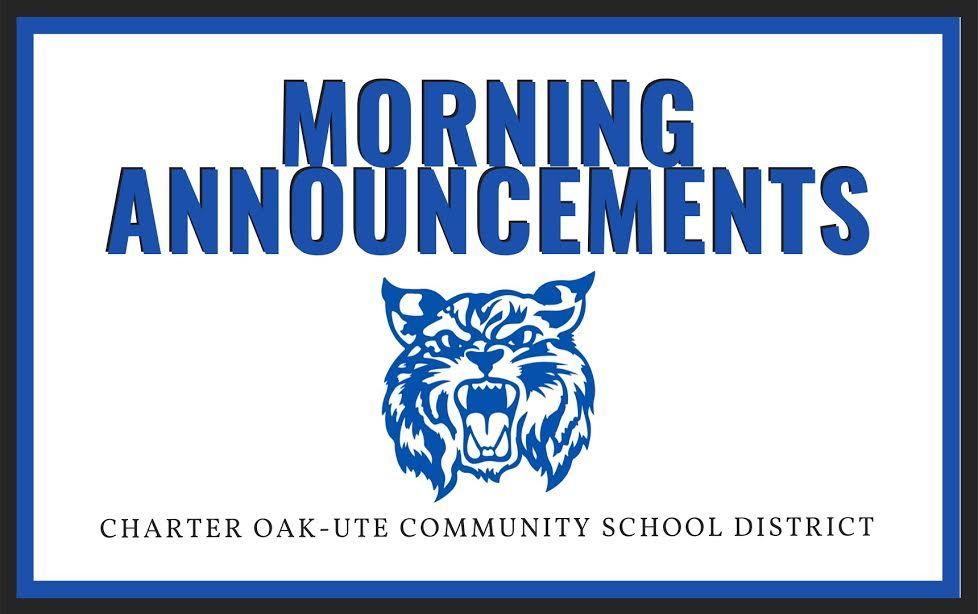 Tuesday's Announcements
Brenda Christiansen
Tuesday, May 12, 2020
Morning Announcements: Tuesday, May 12th, 2020
Good Morning Bobcats!!!
Today is known as National Limerick Day. Observed annually on May 12th, National Limerick Day celebrates the birthday of English artist, illustrator, author, and poet Edward Lear. A limerick is a very short, humorous, nonsense poem. Within a limerick, there are five lines. The first two lines rhyme with the fifth line and the third and fourth line rhyme together.
Here's an example:
A teacher she'd wanted to be Since the tender age of just three She was very brave And to her kids she gave Faith that they would succeed
Give it a try today and see if you can write a limerick about anything at all.
Interesting Fact of the Day: Did you know that the largest peanut butter cup ever made weighed 440 pounds? Wow! That would definitely be one HUGE candy bar!!!
Joke of the Day: The teacher said to her class one day, "Who ever answers my next question can go home. Just then a little boy threw his bag out the window. The teacher asked, "Who just threw that?" The little boy answered, "Me. I'm going home now." (Now that's a smart kid!)
Happy Birthday wishes go out to 1st grader, Morgan Teut, and 5th grader, Jax Kluver, today! We hope you both have a great day filled with all kinds of fun!
Congratulations to 8th grader, Anna Huisinga! Anna was the lucky winner in our trivia contest. She knew that there are 6 teachers that teach classes on the first floor of COU. They are Mrs. Stallons, Mr. Steele, Mr. Wood, Mrs. Christiansen, Mrs. Gran and Miss Mesenbrink. Way to go, Anna! Your gift will be delivered very soon!
The COU Student Council has more prizes to give away! See if you can answer today's Trivia Question.
In what sport did COU win its last State Championship title?
Submit your answer to Mrs. Christiansen's email address at: bchristiansen@co-u.net and winners will be presented with some cool prizes!
Are you a 5th, 6th, or 7th grader this year and would like to be a part of this FUN Student Council group? If so, fill out the forms that were in your last packet to become a member of the COU Student Council for next year! They need to be returned by May 28th. We'd love to have you!
The 2019-2020 Yearbooks have arrived! IF you ordered a yearbook throughout the year, they are in! There is a limited supply left to purchase. If you missed out throughout the year and would still like a copy reserved for you, please contact Mrs. Christiansen at bchristiansen@co-u.net . These will be on a first contact basis until they are gone. The cost is $25. Thank you!
That's all for today. Remember stay safe and stay healthy! Look for our morning announcements everyday until the end of the school year!