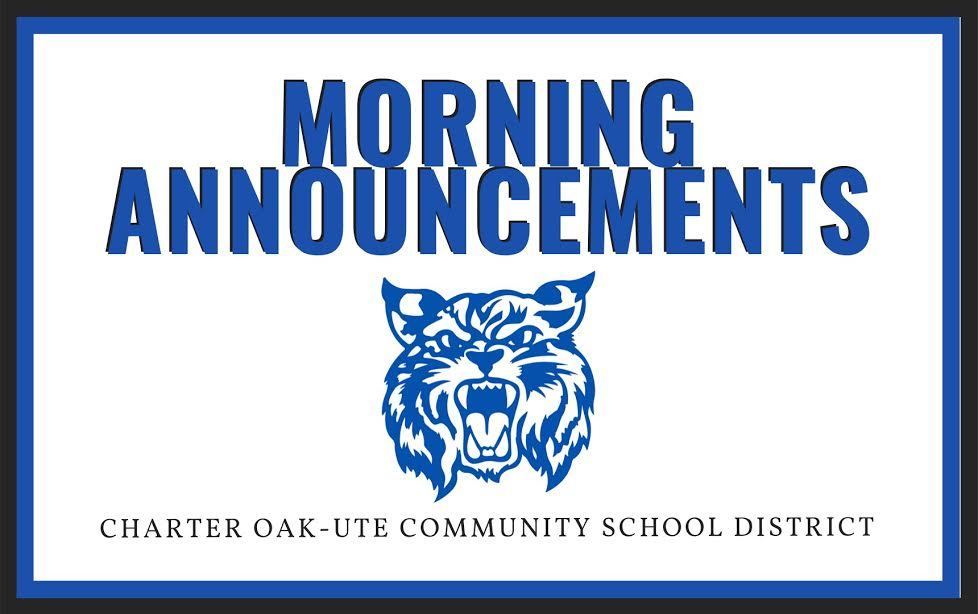 Thursday's Announcements, May 14th
Brenda Christiansen
Thursday, May 14, 2020
Morning Announcements: Thursday, May 14th, 2020 Good Morning Bobcats!!!
Everyone has probably danced the "Chicken Dance" at least once in their lifetime. This silly, fun song is popular at wedding dances and school dances. The song gets people of all ages up and moving on the dance floor and what a good day to celebrate it. Today is known as National Dance Like a Chicken Day. So what are you waiting for? Get up and start strutting like a chicken and flap those arms!
Interesting Facts of the Day: Did you know that there are more chickens on earth than people – over 25 billion to be exact. There are also more chickens than any other bird species. Chickens can remember over 100 different faces of people or animals and a mother hen can lay more than 300 eggs per year. Wow! Now those are some really interesting chicken facts!!!
Joke of the Day:
Knock, Knock
Who's there?
Chicken.
Chicken Who?
Chicken your pockets, maybe your keys are there.
Happy Birthday wishes go out to Kindergartners, Ben Klinker and Shalee Schrader, and to 4th grader, Ben Meseck, today! We hope you all have a great day filled with all kinds of fun!
Congratulations to our hot lunch lady, Mrs. Diane Gotto! She was the lucky winner of our trivia contest. The last State Championship title that the COU Bobcats won was in basketball! The year was 2005! Way to go Diane! Your prize awaits you!
Are you a 5th, 6th, or 7th grader this year and would like to be a part of this FUN Student Council group? If so, fill out the forms that were in your last packet to become a member of the COU Student Council for next year! They need to be returned by May 28th. We'd love to have you!
The 2019-2020 Yearbooks have arrived! IF you ordered a yearbook throughout the year, they are in! There is a limited supply left to purchase. If you missed out throughout the year and would still like a copy reserved for you, please contact Mrs. Christiansen at bchristiansen@co-u.net . These will be on a first contact basis until they are gone. The cost is $25. Thank you!
That's all for today. Remember stay safe and stay healthy! Look for our morning announcements everyday until the end of the school year!