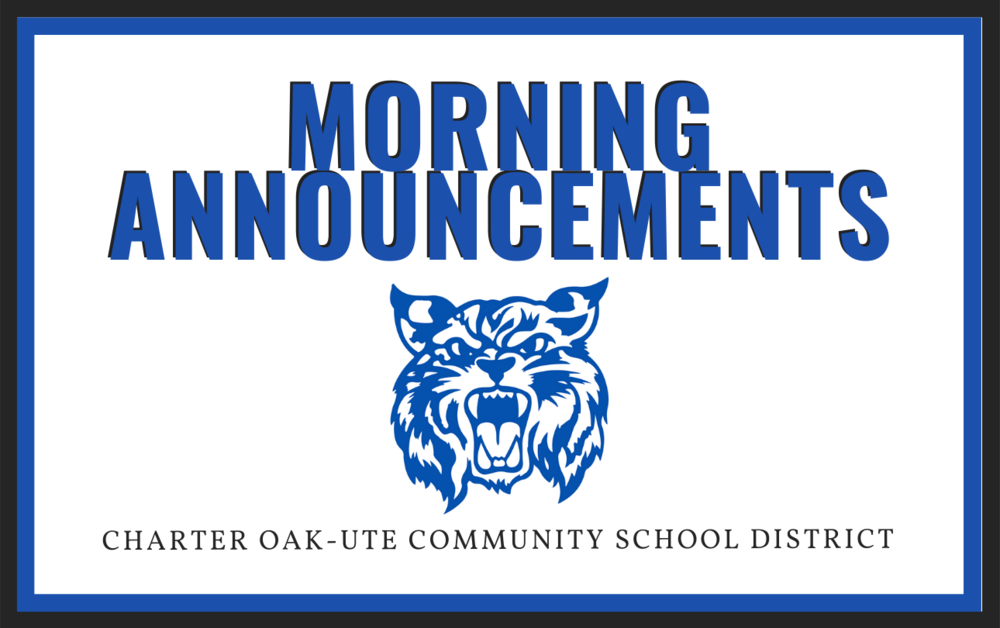 Ann - April 28
Kim Creese
Wednesday, April 28, 2021
Good Morning Bobcats!
Today is Wed, April 28th
Which is also Great Poetry Reading Day! So if you need any preferences you can always ask our JH-Reading-Teacher-Mrs.Bissen!
*TAKE YOUR TIME*
Shout out to the track team on last night's performance at Logan.
On the girls side Stand out performances came from Laci Klink, placing 4th in Shot Put and Discus, Patience Winser taking 4th in long Jump and 200 meter dash along with 3rd place in 100 meter dash. Relay teams took 4th in distant medley, 4 by 100, and 4 by 400. NICE WORK GIRLS.
For the boys, Titus Morley got 3rd in the long jump with a personal best. Noah Bramley was 4th in the 200 meter dash. Jace Hendersen Took 2nd in discus, with a record breaking throw! Peyton Gress took 2nd in the 200 Meter Hurdles. For relays, distance Medley and 4 by 100, were 4th. Sprint medley and the 4 by 200 were 2th place. Keep Working hard Bobcats
Tomorrow for Breakfast is Bagel,sausage, fruit, juice, and milk.
Today for Lunch is Chicken & Biscuits, mixed veggies, Pears, Chocolate cake, and milk
Now for the purple heart pledge..I will not use my hands, or my words, for hurting myself or others…
And now for the pledge… I Pledge Allegiance